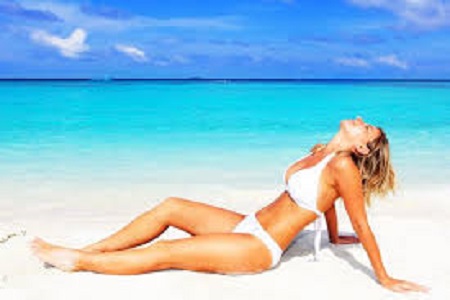 Skin Care in The Summer. Well it's summer time which means fun in the sun. With more of your body exposed and the summer sun rays you have more of a chance to damage your skin.
Here are some summer skin tips that can help you keep your skin looking good.
Exfoliate for a cleaner and smoother skin. What this does is remove dead, dulling skin to prevent congestion and improve hydration from toners and moisturizers.
Keep your skin hydrated. Increase your regimen's level of hydration with intensive masques, that can be used one or two times per week,
Drink Plenty of Water. With higher temperatures while you are spending more time outdoors, internal dehydration can result in headaches and dizzy spells. Drink 8 8oz glasses of plain filtered water everyday day.
Always apply enough sunscreen. Most of the time we don't apply enough sunscreen. Here is what you should apply. One teaspoon for your face and for your body about as much as would fill a shot glass. You should re-apply this every 2 hours.
Soothe Over Exposed Skin. If you didn't apply enough sunscreen the damage may already be too late. However you do not need to suffer. Soothing botanicals and cooling gels can help prevent peeling and reduce redness.
Be sure and Repair and treat sun damage. UV light causes photoaging in the form of brown spots, coarse skin and wrinkles, whether you have burned your skin or not. When sunlight comes in contact with skin a cascade of damage results (including the stripping of barrier lipids) causing inflammation, production of reactive oxygen molecules that affect healthy cell growth, and stimulation of collagen destructing enzymes.
We hope this information was helpful. Here at On Call Medical Clinic we offer a full array of skin treatments from Botox, to Laser Hair Removal, to Juvederm, and finally to Ultherapy. Please call us at any time with skin care questions that we may be able to help you with. We are open 7 days a week. You are welcome to visit our website at www.oncallclinic.com to learn more about the skin care treatments we offer.