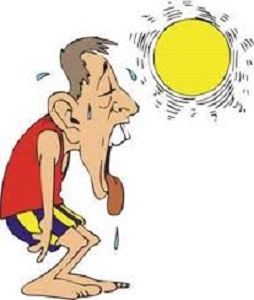 We all like to get out and enjoy the Summer and do all kinds of fun summer daily activities like swimming, boating, fishing, going to a waterpark, and just sitting around sun bathing. But sometimes we can overdo it and not realize we have been over exposed to the summer heat.
What should you be aware of that may be signs of overexposure to the Summer Heat?
Here are 8 signs that you have overexposure to the heat.
Heavy Sweating-though if heat stroke sets in, the body can no longer compensate and stop sweating
Pale Skin
Muscle Cramps
Felling Tired and Weak
Altered Mental Status (confusion or disorientation)
Headaches
Becoming Semi-Conscious or Passing Out
Nausea or Vomiting
If you recognize heat-induced illness, the first thing you need to do is call 911.If you can without help or with someone get quickly out of the sun and into a cool area. An air-conditioned area is ideal.
Next apply water to help cool off. Also, apply ice to the neck and armpits. Remove any heavy clothing.
And finally immerse the body in cool water, either in a swimming pool or a bathtub.
Temperatures in the 90s and higher are dangerous. They become more dangerous the higher they go and the longer they last. When enjoying a great summer day be aware of the summer heat and be cautious.
We at On Call Medical Clinic like you look forward to the Summer. We hope that this information was helpful.  If you feel like any of these warning signs are present for you are someone with you, feel free to call us. We are open 7 days a week and our trained medical staff is ready and prepared to help when heat overexposure occurs.
Please call us at 228 818-5155 if we can help. Also, please visit our website at www.oncallclinic.com to learn about all our medical services. We have onsite excellent laboratory and diagnostic equipment to quickly uncover what your condition may be.